Episodes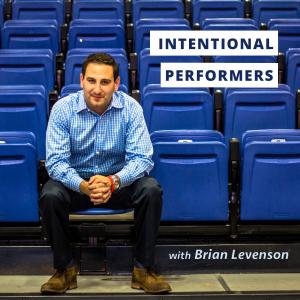 Wednesday Nov 09, 2022
Wednesday Nov 09, 2022
Tom Rath is an author and researcher who has spent the past two decades studying how work can improve human health and well-being. Tom has 10 books, which have sold more than 10 million copies. He has made hundreds of appearances on global best-selling lists. What you're going to find out form this conversation is that even though Tom's resume is loaded and quite remarkable, he really thinks about contribution quite a bit. His first book, How Full is your Bucket, speaks to meaning and purpose mean to us. That book was an instant New York Times Bestseller and led to a series of books that are used in classrooms around the world. His book StrengthsFinder 2.0 is how I learned about Tom. It's Amazon's top-selling non-fiction book of all-time. Tom's other bestsellers include Strengths-Based Leadership; Wellbeing; Eat Move Sleep, and Are You Fully Charged? He's also co-authored two illustrated books for children, How Full is Your Bucket? For Kids, and The Rechargeables. His most recent books are Life's Great Question: Discover how you Contribute to the World, and It's Not About You: A Brief Guide to a Meaningful Life, published in partnership with Amazon Original Series. Tom also spent 13 years at Gallup, where he led the organization's strengths, employee engagement, well-being and leadership consulting worldwide. He has served for the past 5 years as an external advisor in Gallup Senior Scientist. At his core, Tom really is a researcher. He's somebody who loves to get in the weeds and find out what the science says about wellbeing and how we can be our best selves. He's also served as the vice-chair of the VHL Cancer Research Organization and has been a regular lecturer at the University of Pennsylvania. Most recently, Tom co-founded a publishing company, and he's also an advisor, investor, and partner in several startups. This conversation is wide-ranging. It's not just about Tom's accomplishments, it's also about how he sees the world, what it's like for him to be a father and a husband, and just a great overall citizen.
Tom had a number of amazing insights during our conversation. Some of them include:
"I am most comfortable when I am alone, thinking to myself or reading about new research each morning, which I still do meticulously" (7:00).
"It's a huge waste that we wait to eulogize people until after they're gone" (8:50).
"When I either learn something new in a day or when something I've believed in especially strongly is proven wrong, nothing makes me happier than to be that wrong, because it means I've learned something new and I'm being open-minded" (12:50).
"Learning is a great way to fill your own bucket" (13:15).
"I don't think anything is more important from a leadership standpoint than to really think about a good question you could ask to someone who looks to you for guidance and keep all your devices stowed away and genuinely close your mouth for a while and listen and process that" (14:20).
"Ask a question and then don't follow-up or push or prod for at least 30-60 seconds" (15:45).
"It's in the free time and the play time that we act like our true selves a little bit more" (16:20).
"Sleep is the most underestimated need" (16:50).
"I see everything through the eulogy values of what I'm doing that's meaningful for people versus some of the accomplishment stuff that might have been more relevant to me ten or twenty years ago" (25:00).
"Most of us are dealing with some real challenge and most people we interact with never know that, so I always have to remind myself to presume that someone else is dealing with the same stuff" (27:45).
"The way that we've built the expectation of what work is and what it should be just needs to be blown up" (34:40).
"We've got to question how we can make work a better experience" (35:50).
"On average, work is harming people" (36:20).
"We've got to find ways to infuse more movement into our work routine" (44:05).
"Observing kids has been a gift during the pandemic" (45:25).
"I have more fun working on other author's projects than writing my own books" (46:30).
"The biggest contribution for me is having a family that I'm really proud of" (51:40).
"We need to start talking about our lives from more of a contribution standpoint than a resume and accomplishment standpoint" (58:05).
Additionally, you can find more about all of the books Tom has been involved with publishing here! I'd also encourage you to check out the Contribify website here. You can also connect with Tom on Twitter and LinkedIn.
Thank you so much to Tom for coming on the podcast!
I wrote a book called "Shift Your Mind" that was released in October of 2020, and you can order it on Amazon and Barnes and Noble. Additionally, I have launched a company called Strong Skills, and I encourage you to check out our new website https://www.strongskills.co/. If you liked this episode and/or any others, please follow me on Twitter: @brianlevenson or Instagram: @Intentional_Performers.
Thanks for listening.