Episodes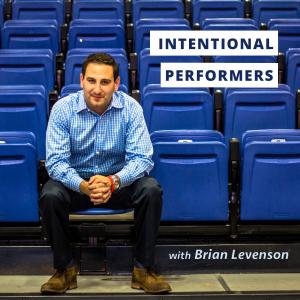 Wednesday Sep 28, 2022
Wednesday Sep 28, 2022
Owen Eastwood helps teams and organizations thrive. He really focuses on the systems and the process and how you can build an elite culture. He is someone who mixes ancient philosophies and wisdoms and is spiritual in a lot of different ways. Ultimately, he tries to help coaches and leaders and sports organizations get clear on their vision and help them create processes to make their vision a reality. Over the past decade, Owen has worked with some of the most elite teams and groups in the world, including The England National Soccer Team, The British Olympic Team, NATO, and The South African Cricket Team. All along the way, he's coached their leaders on how to build world class culture and take performance to the highest level. Owen takes a systems approach, looking at the whole, and tries to help organizations figure out how they can function better.
Owen had a number of amazing insights during our conversation. Some of them include:
"You are one person in a line of people that goes back to our origin story. All of the people that came before you have their arms interlocked with each other" (8:40).
"You've always been part of this community, and you always will be part of this community" (9:00).
"There's an immortality that goes with belonging" (9:15).
"The best leaders are ones who build out from having relationships with the people they're responsible for" (16:35).
"I didn't find it particularly fulfilling just helping one individual become the best version of themselves" (24:20).
"What has always motivated me is what a team or a community are trying to achieve" (24:30).
"We have a need to belong" (29:30).
"Our universal need to belong is under threat" (31:30).
"If we have everybody dispersed and not together, we actually diminish our energy" (35:55).
"Autonomy is really powerful, but it has to be in balance with connection to the team" (41:40).
"If you don't have those visions and those pictures of exactly what it is you're trying to achieve, then you can easily get a bit lost and disconnected from each other" (46:30).
"The sun shined on people before us and it will shine on people after us, but right now it's shining on us" (47:35).
"In order for you to anchor yourself and to have a meaningful life, you need to understand what it is you belong to, what the story is so far… and what impact you want to have and ultimately the legacy that we will leave" (48:00).
"The past, the present, and the future are only one thing. What are you doing when the sun is shining on you?" (48:25).
"You should be a guardian for the things that you are part of" (48:40).
"What you do when the sun is shining on you is your legacy" (49:40).
"We can choose what kind of legacy we want to leave" (50:30).
"Psychological safety is an absolutely essential element of a high performing environment" (54:45).
"Belonging is not directly correlated to how many hours you spend around other people" (1:05:30).
"My sense of belonging comes from the way I'm treated in that environment and my sense when I'm outside of it" (1:06:20).
"I've always been a coach, even as a kid" (1:11:25).
"It's a sacred responsibility to manage and lead other people" (1:13:20).
"High performers have an overwhelming focus on what they can control" (1:15:45).
Additionally, you can follow Owen on LinkedIn.
Thank you so much to Owen for coming on the podcast!
I wrote a book called "Shift Your Mind" that was released in October of 2020, and you can order it on Amazon and Barnes and Noble. Additionally, I have launched a company called Strong Skills, and I encourage you to check out our new website https://www.strongskills.co/. If you liked this episode and/or any others, please follow me on Twitter: @brianlevenson or Instagram: @Intentional_Performers.
Thanks for listening.